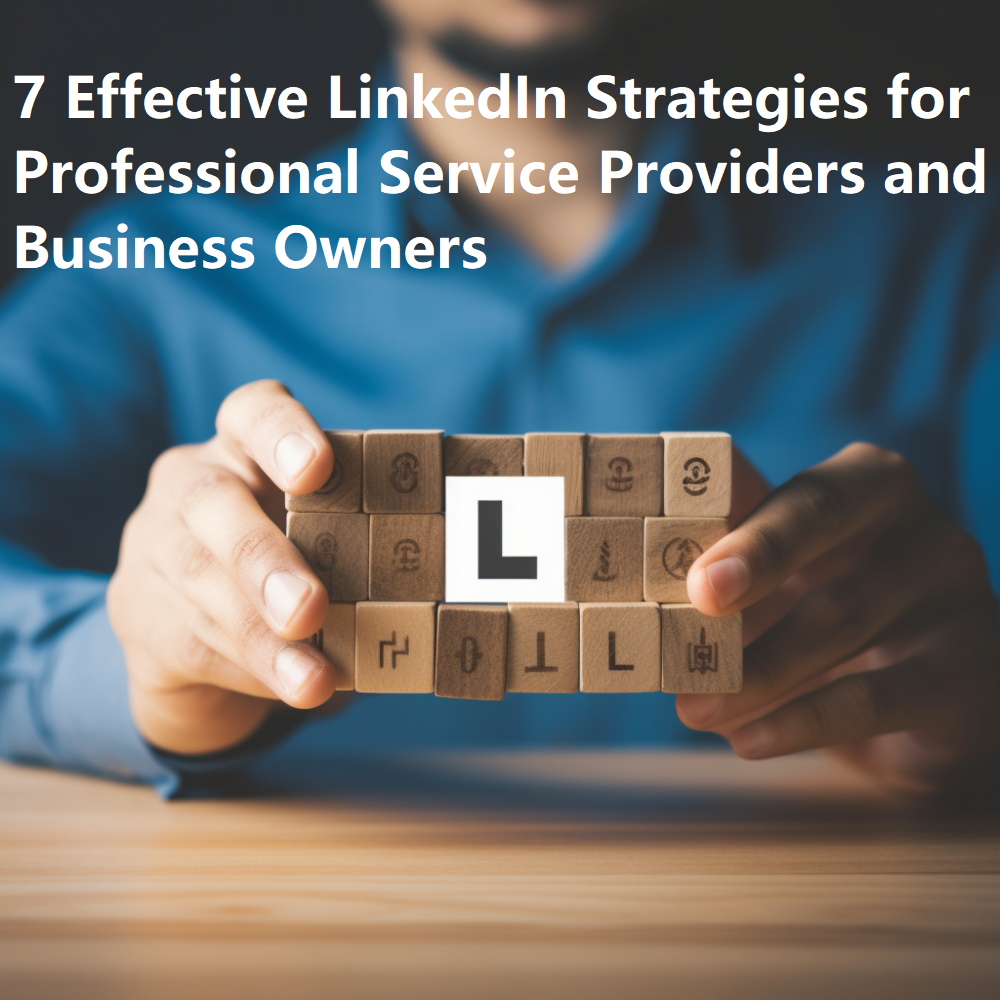 As a professional service provider or business owner, LinkedIn is an invaluable platform to generate leads, grow your professional network, and showcase your expertise. With over 774 million users, LinkedIn offers various opportunities to reach your target audience effectively. In this blog post, we will discuss seven effective LinkedIn strategies tailored to professional service providers and business owners, providing examples to help you make informed decisions.
1.Optimize Your Profile
Your LinkedIn profile is your virtual business card, and it should reflect your professionalism and expertise. Ensure your profile picture, headline, summary, and work experience are updated and accurately represent your services. Highlight your unique value proposition and showcase your skills to attract your target audience. For example, a financial advisor could highlight their expertise in retirement planning and wealth management.
2.Leverage Company Pages and Showcase Pages
Create a LinkedIn Company Page for your business to improve your online presence and provide potential clients with more information about your services. Additionally, consider creating Showcase Pages to highlight specific services or business divisions. For example, a marketing agency could have separate Showcase Pages for social media management, SEO, and content creation services.
3.Publish Thought Leadership Content
Establish yourself as an authority in your industry by regularly publishing valuable and informative content. Share blog posts, whitepapers, case studies, or industry news to engage your audience and demonstrate your expertise. For instance, an attorney specializing in intellectual property law could share updates on recent patent litigation cases or write about the importance of protecting intellectual property rights.
4.Engage with Your Network
Actively engage with your connections by liking, commenting, and sharing their posts. Participate in relevant LinkedIn Groups to expand your network and showcase your expertise. Engaging with your network not only strengthens your relationships but also increases your visibility on the platform. For example, an IT consultant could join and contribute to discussions in groups related to cybersecurity or cloud computing.
5.Utilize LinkedIn Advertising
LinkedIn offers various advertising options, including Sponsored Content, Sponsored InMail, and Carousel Ads. Experiment with different ad formats to find the most effective method for promoting your services to your target audience. For example, a business coach could use Sponsored InMail to send personalized invitations to potential clients for an upcoming workshop.
6.Request Recommendations and Endorsements
Recommendations and endorsements from satisfied clients and colleagues can significantly enhance your credibility on LinkedIn. Request recommendations from clients you have successfully worked with and ask colleagues to endorse your skills. These social proofs will help build trust with potential clients and differentiate you from your competitors. For example, a real estate agent could ask satisfied homebuyers to write a recommendation detailing their positive experience.
7.Monitor Analytics and Adjust Your Strategy
Regularly monitor your LinkedIn analytics to measure the effectiveness of your efforts and identify areas for improvement. Adjust your strategy based on the insights you gain, and continually refine your approach for long-term success on LinkedIn. For example, if your content receives more engagement on certain topics or during specific times, focus on those areas to optimize your results.
Conclusion
LinkedIn offers a wealth of opportunities for professional service providers and business owners to build their brand, connect with potential clients, and establish themselves as thought leaders in their industry. By implementing these seven effective LinkedIn strategies, you can optimize your presence on the platform, maximize lead generation, and ultimately grow your business. Remember, consistency is key, and continually refining your approach will lead to long-term success on LinkedIn.
At Agent Infinite, we understand the challenges professional service providers and business owners face when trying to leverage LinkedIn for lead generation and brand building. That's why we offer comprehensive solutions tailored to your unique needs, making it easier for you to effectively utilize LinkedIn and achieve your marketing goals. Our 3-in-1 LinkedIn lead generation solution combines strategy, implementation, and management to help you maximize your results on the platform. By partnering with us, you can focus on providing exceptional services to your clients while we take care of your LinkedIn marketing efforts, ensuring a successful and efficient approach to growing your business. Learn more about our services and how we can help you by clicking here.